SOME content courtesy of  THE NEWS HERALD and THE STAR BEACON
THE "WRESTLERS of WELSER" WERE OUT IN FULL FORCE this past weekend, competing for a WRC Conference Championship on Saturday (2/13) and then again on Sunday (2/14) as both our men and ladies grapplers fought to keep their seasons alive. In one sense, these young men and women have already "won" the biggest match of the 2020-21 season – that of sticking together as a team through the uncertainties of a paused schedule – and staying focused / positive so that they could continue to chase conference, sectional, district dreams….and perhaps even beyond.
For a recap of the WRC tournament, district qualifying, AND Coach Rich Hall's insights – see the links and postings below !
Four-time league champ Danny Martich helps lead Riverside to WRC title
https://www.news-herald.com/sports/high-school-sports/high-school-wrestling-four-time-league-champ-danny-martich-helps-lead-riverside-to-wrc-title/article_e66d8e92-6e5c-11eb-ad94-cbb2a0a9f707.html
Arcs Wrestling @

WRC

Championships

2/13/21
London Settles – 2nd
Scott Monah – 3rd
Anthony Efford – 4th
Maliek Williams – 4th
David Williams – 5th
Hunter Crouse – 5th
La'Quil Pashcal – 6th 
High school wrestling: State tournament to be held at three locations
https://www.news-herald.com/sports/high-school-wrestling-state-tournament-to-be-held-at-three-locations/article_ba461286-6cad-11eb-849d-d7ccef62e54b.html
PHOTOS: Western Reserve Conference wrestling tournament, Feb. 13, 2021
https://www.news-herald.com/sports/photos-western-reserve-conference-wrestling-tournament-feb-13-2021/collection_4425cb50-6e47-11eb-bc39-f3277e763b8c.html
FROM BRUSH WRESTLING HEAD COACH

Rich Hall

:
" On Sunday February 14, 2021, three of our Lady Arcs competed in the first Girls' District Wrestling Tournament to qualify for the OHASWCA State Girls' Wrestling Championships next weekend.
Joshika Sherpa wrestled with strength and heart, but was unable to secure a qualifying place. She demonstrated this by elevating her wrestling against a tough opponent in her second match where she lost a battle that resulted in a 7-2 loss eliminating her from the Tournament.
Ernestine Underwood secured her place as one of the first Lady Arcs to qualify for the Girls' State Wrestling Tournament. She bounced back from a first round loss by winning her next two matches to take 3rd place at the 143 pound weight class.
Marneice Johnson became the second Lady Arc to qualify for State. She accomplished this by winning three straight matches after suffering a first round loss. She placed 3rd with a second period pin while knowing she had already qualified for the State Tournament at the 189 pound weight class. "
OHSWCA Girls Northeast District Tournament
Team standings: Minerva 139, Lutheran West 116, Alliance 105, Mentor 89, Cleveland CC 55, Mogadore 51, Hubbard 42, Harvey 42.
Final round
Local results
Top four advance to state tournament
101 pounds: First, Banyas, Elyria, pinned Herrera, Harvey, 1:02, Third: Bean, Marlington, pinned Lesler-Harold, North, 4:02.
111: First, Splete, Mentor, pinned Shafer, Minerva, :25.
116: First, Beadle, Boardman, pinned Zehe, Madison, 4:38.
131: Third, Hutson, Lakeside, pinned Stamper, Geneva, 2:19.
137: Third, Flynn, Hubbard, pinned Preston, North, 4:32.
143: First, Stith, Salem, pinned O'Brien, Mentor, 1:32, Third, Underwood, Brush, dec. Reyes, Lutheran West, 3-2.
150: First, Patrick, Alliance, pinned Cortez, Harvey, 3:09, Third, Disman, Massillon Perry, pinned Novak, Mentor, 4:04.
170: First, Hackett, Brookfield, pinned Menchaca, Mentor, 4:17.
189: Third, Johnson, Brush, pinned Hilliard, Minerva, :54.
235: Third, Moretti, Madison, pinned Dalton, Lakewood, 1:48.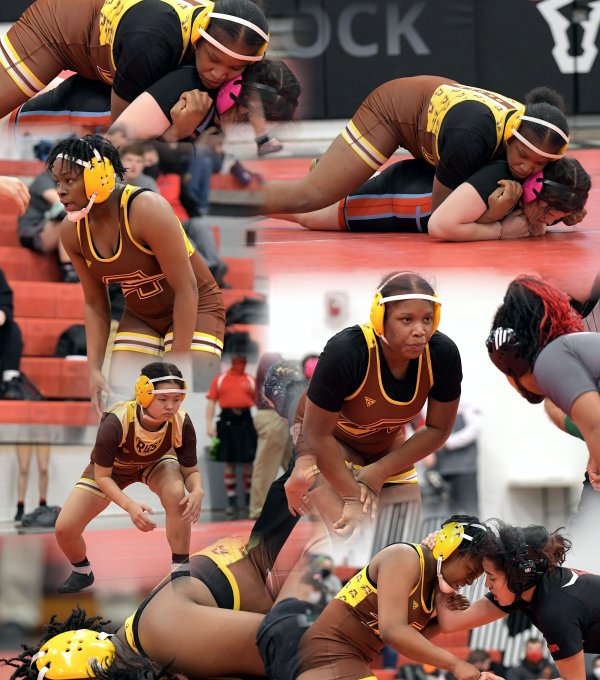 THE BRUSH ARCS BOWLING TEAM faced a formidable task when they set their sights on Wickliffe Lanes to compete in sectional competition this past Saturday. A team of 6 young men and 2 ladies may have been a bit lacking in personnel – but the "Alley Arcs" have dealt with adversity all year long; short on total athletes looking to join the team…the Covid crisis wreaking havoc on area bowling facilities, causing Coach Scott Paluscsak to scramble in a search for lane time AND opponents, as some schools experienced quarantines….and Brush's own 2-week athletic shutdown from which, not every bowler returned.
Yet those who HAVE weathered the storm(s) gave their all, and refused to back down from more equipped, historically successful programs. For the ladies side of competition, Arc Julia Monaco fared very well, bowling a 3-game series of 446, which placed her 13th of 53 bowlers – and one can only wonder where Julia might have finished had she not started a bit slow in games 1 and 2, recording a 115 / 116. In game 3, however – she attacked the pins intensely, nearly doubling her first 2 games COMBINED, as she surged to a 215 result ! That breakout game vaulted her 3-game average to 148.6, far superior to the 53-person average of 126.8 on the day. Her 215 was 3rd highest of 53 in the game 3 totals.
As for the Arc men, Brush was led by Paul Miozzi, whose 3-game total of 496 placed him 30th of 67 bowlers while Christian Bolden claimed the 43rd spot with a 449. Miozzi was the lone Arc who bested the "field average" of 161 per game (165). Brush per-game averages on the day looked like this:
~ Paul Miozzi                 165 (3 games)
~ Christian Bolden       150 (3 games)
~ Luke Young                142 (2 games)
~ Alex Avery                  132 (3 games)
~ Jared Wittels             120 (3 games)
~ Carter Basile              105 (1 game)
Although no ARCS will advance to the district rounds, what must be said is that this group of athletes encountered numerous reasons to walk away or give less than maximum effort – yet represented their community, school, and families with class and perseverance !
GIRLS & BOYS team / individual results can be found in the links below, as well as an article re-capping the day's events at sectionals…..
GIRLS TEAM / INDIVIDUAL
NE-GD1-WickliffeSectional-TeamResults
BOYS TEAM / INDIVIDUAL
NE-BD1-WickliffeSectional-TeamResults
Mentor boys, girls bowling teams win sectional titles at Wickliffe Lanes
https://www.news-herald.com/sports/high-school-sports/mentor-boys-girls-bowling-teams-win-sectional-titles-at-wickliffe-lanes/article_266878de-6e64-11eb-92f0-e775b7a47708.html
THE BRUSH ARC SWIM SQUAD (also featured on a 2/12 posting) took to the waters at SPIRE INSTITUTE over the weekend, seeking to cause a "splash" on the local swimming scene of NE Ohio schools…..
More to come on those results as they season winds down !
"Coach's Corner"

– A few moments as Head Coach 

Jake Kudrna 

reflects….
" As Brush swimmers gear up for the Sectional competition at the SPIRE Institute on Saturday, I would like to reflect on the tremendous year that our remaining athletes have had !
Without summer swim opportunities and almost every indoor pool closed due to the pandemic, they returned out of shape and much slower than expected. Times were slow, endurance was non-existent and technique had gone by the wayside, but they were determined to reach new goals that would cast a shadow on their previous accomplishments. Early practices were challenging and exhausting, but our athletes exceeded expectations and began to dust off the cobwebs. The break from athletics during the end of November to early December was a huge hit to the size of the team, but those that returned had come back energized and more committed than ever. From a coaches perspective, these were the perfect athletes to train. I was able to set weekly goals for each swimmer and watch in excitement as those goals were consistently shattered. From our first meet to our last, each swimmer set the bar higher each time they left the blocks, hitting new in-season and personal bests at every competition. We go into our final week of the season with high expectations and a welcomed optimism for the quality of swims we will see on Saturday. Senior Sean Pierce and Junior Jordan Raynor are within reach of a district qualification, with the remaining members Arthur Franklin, Aiyana Stovall, Frannie Rhine, Chaely Raynor and Sammie Lashley set to shatter all personal records they had set prior to this season.
The 2020-2021 Brush Arcs Swim Team may not have the number of swimmers required to be competitive on a team scale this year, but the commitment to excellence we have seen from each individual swimmer will be reflected in the results of their individual events. "
~  Coach Jake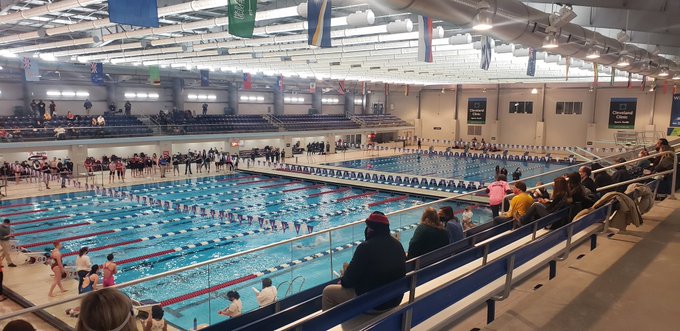 2021 swimming district qualifiers from News-Herald coverage area schools list
https://www.news-herald.com/sports/high-school-sports/2021-swimming-district-qualifiers-from-news-herald-coverage-area-schools-list/article_87e1ed4e-6f53-11eb-8dc8-d7e9418e0c69.html